Butt-head
November 8, 2013
by
Jaime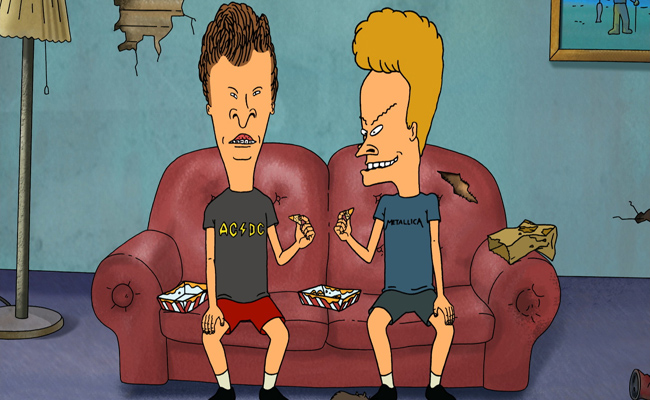 Despite countless failed attempts at dating Butt-head still believes he's a stud when it comes to women. Like his best friend, Beavis, he keeps his look simple with a band shirt and shorts. This leaves him more time to think about girls and complain about things that suck.
About the Author
Jaime
Queen of Shades and Three-legged Animals
Related Posts
Derek Hale (Tyler Hoechlin) is a character from MTV's hit show, Teen Wolf. He is the resident werewolf of Beacon Hills, and becomes a mentor to newly bitten Scott McCall. He is a recurring main character, and is one half of the show's most popular ship, Sterek. His outfits are casual, but his style has a bad boy werewolf edge with a dark color scheme and signature leather jackets.

Derek has a tattoo of a triskele symbol on his back, so you can draw that with black marker or eyeliner. In later seasons, he has stubble. This can be achieved with makeup by using a stippling sponge and black face paint.

Ghost is a Swedish rock band that was formed in Linköping, Sweden in 2006. The lead singer, Tobias Forge, is known for his various imaginative stage personas. One of his most iconic is Papa Emeritus II, the second of Ghost's supposed lead singers.

Richard Hendricks (Thomas Middleditch) is the mild-mannered and often nervous CEO of Pied Piper, a start-up tech company located in Silicon Valley. While Pied Piper's true business model often changes, the company is based around Richard's revolutionary data compression algorithm – a highly sought-after piece of tech that could transform the entire industry.

Æon Flux is the love interest of Trevor Goodchild in MTV's animated series, Aeon Flux. Described as an mysterious assassin and secret agent, she constantly tries to destroy Trevor and his plans (sometimes dying at the end of every mission).

Trevor Goodchild is the antagonist in MTV's animated series Aeon Flux. Described as an morally ambiguous villain, he is occasionally but ultimately stopped by Aeon Flux, a secret agent he has a soft spot for.

Joan of Arc is the teenage literal clone of the original Joan of Ark in the MTV animated series, Clone High. It was a early 2000's series that barely lived a single season. Surprisingly, it has a cult following and is one of MTV's most popular animated shows. Joan represents the goth girl found at any given high school, dressed specifically in mall goth attire.

To pull off this look, you'll need a collection of items that look straight out of the early 2000's, such as a simple black choker, a black long sleeved shirt, some dark green cargo pants, black combat boots, and of course a simple magenta bob.