Search Results for Fortnite

…In Fortnite, Teknique is an unlockable skin as part of the Aerosol Assassins set. With the motto "spray up a storm", she turns spray paint graffiti into an art. Add detail to your costume by painting "TILTED" on the cap, and duct taping together a crow bar and long paint roller for your pickaxe tool….

…In Fortnite, Raptor is a Royal Air Force test pilot. As you can see from his skin, is he ready to handle anything, equipped with everything from a headset for comms to a shovel to dig holes. OK, so that's basically all he has….

Midas (voiced in-game by Matthew Mercer) is a Spy Boss for The Agency. Midas' look is crisp; a vest and tie with dress shirt and pants to match. He is heavily tattooed, with a stylish pompadour haircut. To really recreate this look, you'll want to go over-the-top with gold accessories and weaponry where you can find it. Some gold body paint and gloves can help achieve the transitional appearance seen here, without requiring you to paint your enti…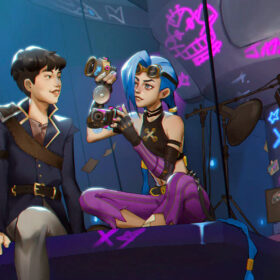 …In Arcane, Jinx (voiced by Ella Purnell), birth name Powder, is transformed into a crazed killer after her and her older sister Vi's parents are killed in a failed uprising. Jinx wears typical Zaunite punk street fashion, along with her trademark two long blue braids and chalk white skin tone. Jinx's outfit in Arcane and her featured Fortnite skin is slightly different from her bikini top and fishnet stockings from League of Legends….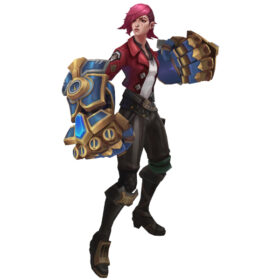 Vi (voiced by Hailee Steinfeld) is the older sister of Jinx in the Arcane TV series. Vi is a Zaunite vigilante who wields a pair of powerful gauntlets. Vi's costuming includes sturdy boots, striped trousers, and a red cropped jacket. You can use an eyeliner pencil to add the "VI" tattoo on her left cheek. Options exist for you to either purchase a cosplay costume set or create your own by mixing and matching different pieces, depending on your pr…

…e all Wes Anderson costumes… Fortnite The game of 2018 without a doubt was Fortnite, on the back of the battle royale format, free-to-play pricetag, and colorful design. Our favorite skins for Halloween costumes are Brite Bomber (see costume) and Teknique (see costume), but snuggliest duo goes to Rabbit Raider (see costume) and Cuddle Team Leader (see costume). See all Fortnite costumes… Jumanji Jumanji's 2017 remake lacks the beloved Robin Willia…

Fortnite Fornite reigned supreme in 2018, and that was due in large part to Epic's playful skins. In addition to the usual tactical characters like Survival Specialist and Raptor, you've got much more whimsical ones like graffiti artist Teknique, rainbow/unicorn themed Brite Bomber, and punk rocker Power Chord. Be sure to practice your favorite dance emotes. See all Fortnite costume guides… Avengers: Infinity War The latest installment of the Ave…

…ita or the Matrix with the colorful and over the top weapons of games like Fortnite. Inkulinati Inkulinati is a unique game for many, many reasons. The biggest of these, however, is that it's based off the strange illustrations found in real-world manuscripts although the game makers create a fantastical world to explain the images. It's another cosplay option where you might have to make your own props. But it'll be well worth it. Especially if y…

…In Avengers: Endgame, Thor (Chris Hemsworth) is now an overweight alcoholic who leaves in seclusion in New Asgard, Norway. Depressed after the Avengers' defeat at the hand of Thanos, who has wiped out half of civilization, he spends his days drinking beer and playing Fortnite. The Norse god of Thunder, now drunk and overweight, bears a striking resemblance to The Dude from Big Lebowski, both in appearance and lifestyle….