Search Results for harry potter

…and Muggle born wizards, for he thinks pureblood wizards are inherently superior. Lucius has a particular disdain for the Weasley family, as well as Harry Potter himself. Jason Isaacs plays this role in the film adaptation….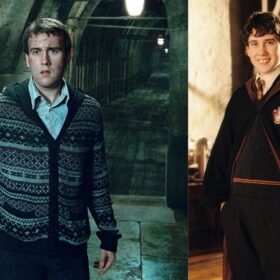 Neville Longbottom is a character in the Harry Potter book series. He is a pureblood wizard who was raised by his grandmother, Augusta, after his parents were tortured by Death Eaters. Like Harry, he's sorted into Gryffindor, but his bumbling and sheepish personality contrasts with the house's mantra. This makes him another target of Draco's bullying. Neville shows promise when he stands up to Harry, Ron, and Hermione, which earns Gryffindor enou…


…In the Harry Potter universe, Death Eaters are a group of dark wizards and witches lead by Lord Voldemort and including Severus Snape who seek to wipe out the Muggle-borns. The Death Eaters first terrorize Harry Potter and friends in Goblet of Fire….

Gilderoy Lockhart is a character in the Harry Potter book and movie series. During his time as a Ravenclaw student, he received many prestigious awards, and he isn't shy about letting everyone know it. After graduating Hogwarts, he became a celebrity in the wizarding world. In particular he wrote books about his encounters with magical creatures, such as Gadding with Ghouls and Travels with Trolls. When Dumbledore appoints Lockhart as the Defense…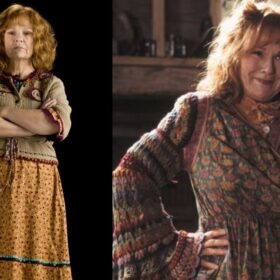 Mrs. Molly Weasley is a character in the wizarding world of Harry Potter. She is a pureblood wizard and the wife of Arthur Weasley. Together they have a grand total of seven children: Bill, Charlie, Percy, twins Fred and George, Ron, and Ginny. She acts like a mother towards Harry, warmly accepting him into their home and into the family. Molly is incredibly protective of her children — she defeated Bellatrix Lestrange when she tried to harm her…

…In Harry Potter, Bellatrix Lestrange (Helena Bonham Carter) is a pure-blood Dark witch and she certainly dresses the part. After graduating from Hogwarts, she became a Death Eater and is fanatically devoted to Lord Voldemort. After breaking out of Azkaban, she murdered her cousin Sirius Black and her niece Nymphadora Tonks. To complete your Bellatrix look, follow this Bellatrix LeStrange makeup tutorial….

…Professor Albus Percival Wulfric Brian Dumbledore is the headmaster of Hogwarts School of Witchcraft and Wizardry. He is the most powerful wizard in the world, and has some eccentric traits, like his love of knitting patterns. By serving as a mentor to Harry Potter, Dumbledore helps in the battle against Lord Voldemort….

…Luna Lovegood's (Evanna Lynch) magical lion hat first makes its appearance in Harry Potter and the Order of the Phoenix and later in the Half-Blood Prince. Luna wears her homemade fake stuffed hat, which lets out a loud realistic roar with a tap of the wand, to show her support for the Gryffindor Quidditch team against the Slytherin team, even though she's from Ravenclaw….

…In Harry Potter, Alastor "Mad-Eye" Moody (Brendan Gleeson) is a member of the Order of the Phoenix and considered the most famous Auror of all time. Mad-Eye is most notable for his magical eye, which allows him to see through any material, even invisibility cloaks, which has been misused by the likes of Dolores Umbridge to spy on her subordinates….