Search Results for umbrella academy

…In The Umbrella Academy, Klaus Hargreaves (Robert Sheehan) is Number Four. The Séance is a flamboyant drug addict who possesses the ability to communicate with the dead, including the deceased Number Six….

…In The Umbrella Academy, The Handler (Kate Walsh) is the head of the Commission and Five's former boss, who works to assassinate anyone who might disrupt the timeline. After chasing Number Five down, she offers him a job with the Commission due to his time-traveling abilities and "stick-to-itiveness"….

…In The Umbrella Academy, Diego Hargreeves (David Castañeda) is Number Two. The rebellious troublemaker of the family, he has the power to hold his breath and control the trajectory of any object he throws, with knives being his weapon of choice….

…In The Umbrella Academy, Luther Hargreeves (Tom Hopper) is Number One, an astronaut with super strength. He is very loyal to his father and the only sibling to never leave the team. After he was severely injured during a mission, he was injected with a serum that turned his upper body into that of an ape. Wear a muscle suit or add your own padding to create the necessary bulk….

…Long before Netflix introduced us to the endearingly flamboyant junkie Klaus Hargreeves on The Umbrella Academy, his comic book counterpart The Seance was wearing all-black, levitating barefoot, and possessing people's bodies with his soul. This version of The Seance opts for more comfortable, albeit still eccentric, costume and opts for no shoes to enhance his necromancer abilities….

Allison Hargreeves is a character from the Darkhorse comic series, The Umbrella Academy. In the Netflix adaptation of the same name, she is portrayed by Emmy Raver-Lampman. Known as Number Three or "The Rumor," Allison can persuade anyone to do anything simply by saying "I heard a rumor." In the second season, she ends up in the 1960s and starts working at a hair salon. She gets married to Ray Chestnut, changing her surname from Hargreeves to Che…

On Netflix's adaptation of The Umbrella Academy, Emily Raver-Lampman brings The Rumor to life in the form of Allison Hargreeves, an accomplished and stunningly beautiful actress whose onscreen success totally has nothing to do with her superhuman ability to manipulate anyone with her words. "I heard a rumor [that you're going to do something I want]," is a phrase that has earned Allison many favors in the world, but also some traumatizing drawbac…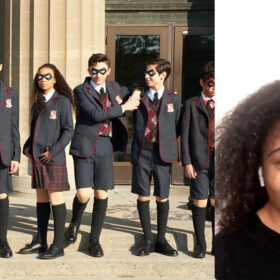 …ours did you enjoy wardrobe the most for. It probably would have to be The Umbrella Academy. I actually also did a movie recently that I can't wait to tell you guys about, where I just loved my wardrobe in that as well. But probably, right now, at number one, it's Umbrella Academy. That wardrobe costume was fantastic. I hope you guys have a wonderful rest of your day. I hope my advice helped a little bit. And have fun cosplaying, Happy Halloween….

…emy The comic book adaptations have been all the rage for a while now, The Umbrella Academy still felt like something new when it hit Netflix in 2019. August 2020 gave fans a second season of the hard-hitting Hargreeves family with enough new costume ideas to make any group happy! Don't miss Allison, Vanya, Klaus, Ben, Diego, and Luther. See all The Umbrella Academy costumes… The Old Guard Immortal soldiers? Intrigue? Action? What more can you ask…

…etflix did a great job adapting another comic franchise to the screen with Umbrella Academy. The best part about it is that these costumes quite recognizable to the fan while still easy enough to assemble. We have the flamboyant Klaus Hargreaves, large Luther, youthful Number Five, dangerous Diego, and unpredictable Vanya aka Number Seven aka White Violin. There's also supporting characters like Mom and The Handler. See all Umbrella Academy costum…