Seven of Nine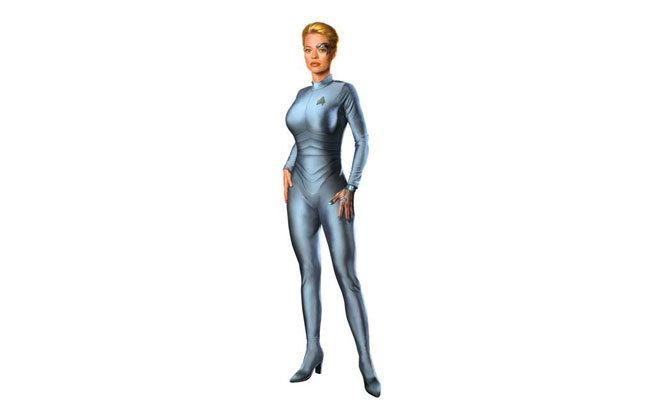 In Star Trek: Voyager, Seven of Nine (Jeri Ryan) serves on the USS Voyager. Born Annika Hansen, she was assimilated by the Borg at age 6, but the Doctor is able to remove most of her cybernetic implants and restore her humanity.
About the Author
Tom
On television, film, music, and all the rest.
Related Posts
In Doom Patrol, Cyborg (Joivan Wade), real name Vic Stone, is a half-human, half-machine cyborg superhero who struggles with his duality. It's he that's the driving force that brings the Doom Patrol together and calls them into action.

In Alita: Battle Angel, Alita (Rosa Salazar) is a disembodied "core" who wakes up with no memory in a post-apocalyptic world. Dr. Ido finds her and gives her a new cybernetic body, turning her into a cyborg, and they soon discover her extraordinary past.

September 28, 2018

by

Tom

In The Orville, Ed Mercer (Seth MacFarlane) is the captain of the USS Orville, an exploratory space vessel of the Planetary Union. His career was on the fast track until it was derailed when he caught his wife Kelly in bed with an alien.

A Bajoran with a chip on her shoulder, Ensign Ro Laren (Michelle Forbes) joins the crew of the USS Enterprise in the fifth season of Star Trek: The Next Generation. She is a tough, strong woman with a scarred past and initially butts heads with the entire crew. Eventually they warm up to each other, though it takes a season or two. As the comm officer on the bridge, she wears the Starfleet Command Red uniform along with a traditional Bajoran family earrings and a distinctive red headband.

Son of ship doctor Beverly Crusher, Wesley Crusher (Wil Wheaton) is a brilliant, adorable, somewhat shy Acting Ensign on the starship Enterprise in Star Trek: The Next Generation. Over the course of the series he grows and matures into a confident, serious young man, attending Starfleet Academy and garnering his fair share of romantic interests. An eager beaver when it comes to scientific experiments, he tends to bite off more than he can chew, which leads to interesting events on the ship. This guide covers his Acting Ensign uniform from the earlier seasons, a colorful number with black pants.

The FIrst Officer of the USS Enterprise under Captain Jean-Luc Picard, Commander William Riker (Johnathan Frakes) performs his duties with confidence, courage and a heap of charm. Although he has the experience and skill to captain his own ship, he chooses to stay with the Enterprise as First Officer. The rakish Riker proceeds to tour the galaxy, saving lives and sweeping women off their feet – with the occasional trombone solo. As a Starfleet officer, he wears the Command Red uniform.