colombiana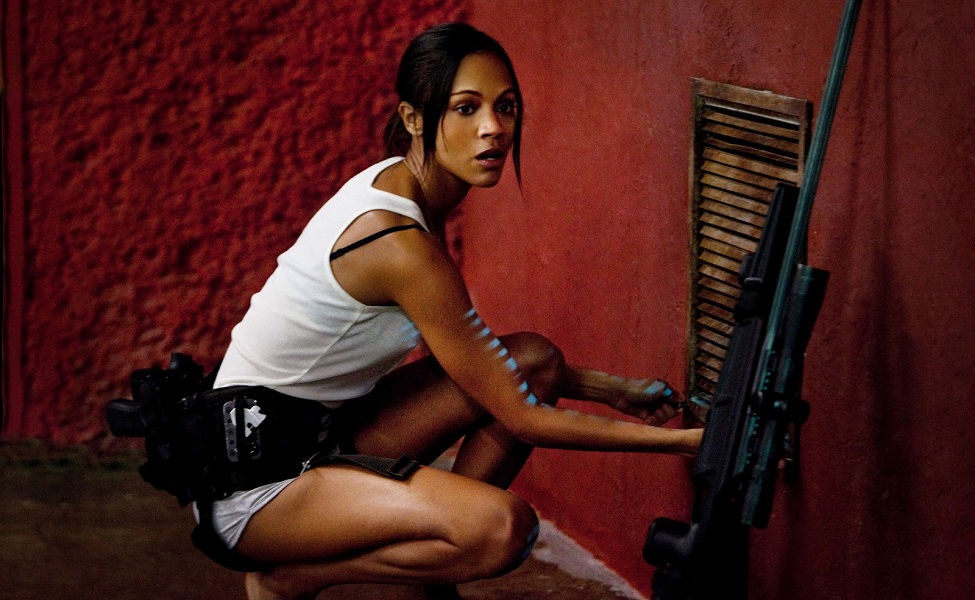 Cataleya Restrepo (played to perfection by Zoe Saldana) knew her life's path from a young age. When her father's employer ordered a hit on her family, only Cataleya made it out alive. The little girl – who once dreamed of being Xena, Warrior Princess – dedicated her life instead to ending the people who took her family from her.
Her line of work means that she has a wide wardrobe. Whatever it takes to get the job done.
The first outfit we see her in is a party dress, black bra, short wig, and gold heels with red bottoms. Red-bottomed shoes tend to be expensive however so you'll have to DIY your own with some standard gold stilettos and red acrylic paint. It's a cover, of course. And as soon as she's alone she strips off the dress and puts on a black catsuit she concealed in her dress in order to assassinate a target housed in another part of the police precinct she was brought to.
A second outfit is a black bathing suit with sleeves, allowing her to swim more easily through a very large tank housing two sharks. A long dark with tied back in a bun is the only other piece you will need for this costume along with invisible shoes such as those in this tutorial.
When she is dressed as herself, though, Cataleya opts for highly detailed black leather jackets, skinny jeans, heeled ankle boots, and comfortable flowing tees. She typically wears her hair down which you can recreate with a long, dark wig styled with waves. Her guns are not easy to see in these outfits, so a shoulder holster is most likely what she uses since she keeps her jackets closely fitted.