Trevor Belmont from Castlevania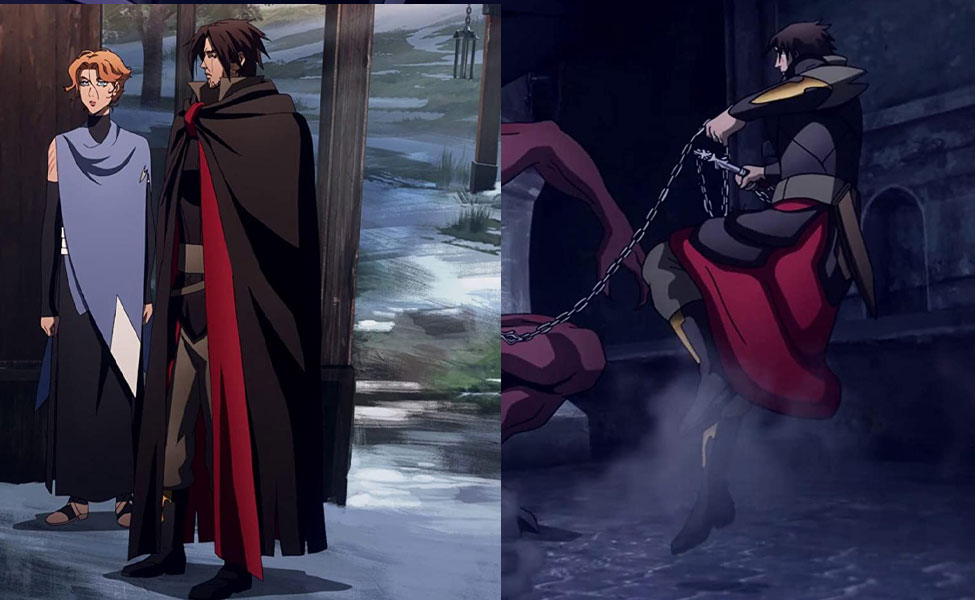 Trevor Belmont voiced by Richard Armitage in the Netflix animated series Castlevania is the main protagonist. Trevor's lineage is that of the Belmont Clan, famously known as a family of vampire killers. He is the last known survivor of his family. During his travels, Trevor meets The Speakers in a town names Gresit. He notices how the people of the town prosecute them and tries to lend a helping hand. An elderly man tells Trevor that his grandson is in the catacombs seeking "the sleeping soldier" who would defeat Dracula's army. Trevor finds Sypha Belnades turned to stone and defeats a cyclops in the catacombs. After returning above ground in Gresit, the two accidentally land back in the catacombs while battling monsters. This is where the find "the sleeping soldier" who is revealed to be Alucard. The three travel together to gather information and defeat Dracula's army. Trevor's personality is a bit cocky and sarcastic. He is especially rude to and untrusting of Alucard due to their family's century-old history of hatred for each other.

Trevor's costume deals with a lot of layering. I first recommend ordering two sizes of stencils or making your own with an Exacto knife and mylar paper. If you do decide to order a pre-cut stencil I would choose a small 4x4, and a larger 8x12 or bigger. These stencils will be for the Belmont Crest (you can find high res pictures on google). The smaller crest will go on the right side of your White Medieval Gothic Shirt. You will need to put cardboard in between and use a stencil brush for the cleanest look.  Now do that on the Brown Vest and/or The Black And Red Hooded Cloak using the same process. Once your crests are dry you can put on the outfit. The White shirt will go over your pants, followed by the Red Medieval Cowl (wrap it around almost like if you were tying a flannel around your hips). Keep everything in place with the black leather belt at your waist. Next put on the Red Harness and then the Brown Vest. after that, you can put on the other accessories. Once completed you will have a very original DIY costume for any cosplay event.
There are no comments yet, add one below.
Stay connected. Don't miss out!
Get new costume guides in your inbox once a month.
And don't worry, we hate spam too! You can unsubscribe at any time.