Vasilly Fet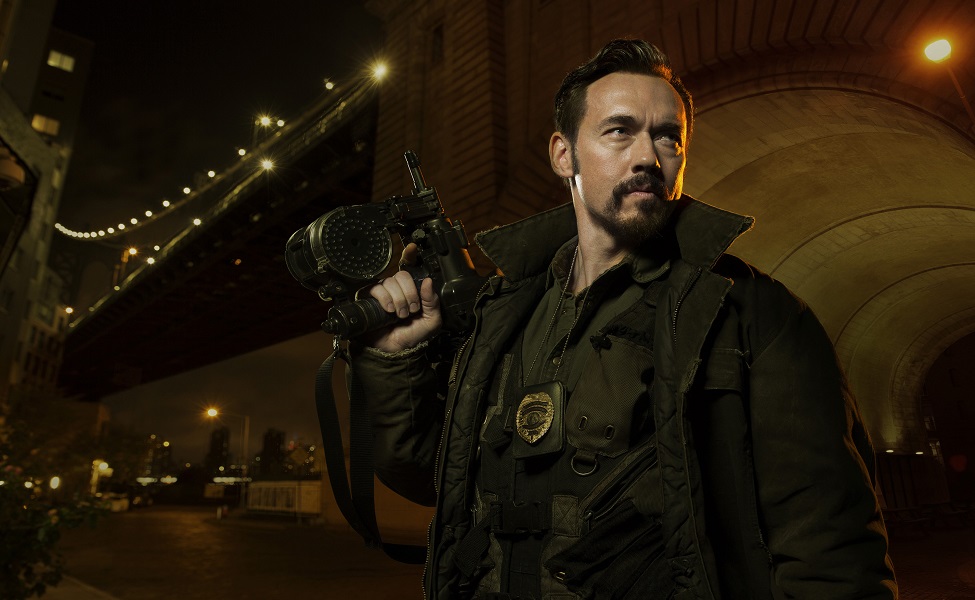 On The Strain, Vasilly Fet (Kevin Durand) is a New York City exterminator who uses his skills and knowledge of the city to fight the strigoi. Despite his solitary nature, he quickly bonds with Professor Setrakian and Dr. Ephraim Goodweather and becomes part of their team.
Ashley
Geek girl with a love of film, comic books, history, retro fashion, and her proverbial zoo of dogs, horses, and snakes.
Related Posts
On The Strain, Charlotte (Rhona Mitra) is a mid-western farmer and Fet's lover. Following the nuclear bomb in New York City, Fet and Quinlan move west to find a solution to the strigoi outbreak in the city, and Charlotte comes to their aid. As a beautiful but rugged farm girl, Charlotte's clothing is all about utility, and she's very comfortable with hunting and the outdoors.

On The Strain, New York City has fallen to an ancient strain of vampires, the strigoi. Vaun (Stephen McHattie) is the leader of a band of undead hunters who were summoned by the Ancient Ones to stop the spread of the strigoi plague. Vaun resembles the other strigoi, though his distinctive feature is his Glasgow smile. With the proper prosthetics, makeup colors, and blackout contact lenses, Vaun's look can be easily achieved.

On The Strain, ancient race of vampires, strigoi, have taken over New York City. During the city's evacuation, the strigoi kidnap blind children on their way out of the city and turn them into "Feelers." The Feelers are blind and animalistic, enhanced with extra-sensory perception and are used to track Dr. Goodweather and the team. They still wear their school uniforms, though most of their clothing has become dirty and tattered. Most of the children are female, but swapping the skirt, stockings, and shoes can be easily swapped for pants and men's dress shoes. Otherwise, their look is virtually identical.
Though this makeup looks complicated, it can be easily achieved with a bald cap, a professional color wheel, hair pieces, scarring fluid, pale blue or white contact lenses, and a little experimentation.

On The Strain, Professor Abraham Setrakian (David Bradley) is a Holocaust survivor who hunts the ancient strain of vampires, the strigoi, that occupied New York City. He first encountered the strigoi during WWII, at the hands of the Nazi army. Despite his age, Setrakian is steadfast and quick, thanks to his concoction of strigoi blood that extends his life and health. His most distinctive accessory is his wolf's head sword cane, once belonging to the vampire master's human host, which he acquired from a war criminal. The exact cane is difficult to find, though many pewter substitutes provide the same effect.

On The Strain, Jusef Sardu (Robert Maillet) was a friendly, 19th-century Polish nobleman afflicted with gigantism. When he's attacked by the master of an ancient line of vampires, the strigoi, he becomes the master's host body. His signature wolf's head sword cane would later come into the hands of a Nazi war criminal, and later Professor Setrakian, who uses it to fight the strigoi. If you prefer Sardu after his transformation, there is a mask available for the Master.

On The Strain, Quinlan (Rupert Penry-Jones) is a vampire/human hybrid who helps the humans fight the vampire outbreak. While his mother was pregnant, she was turned by the strigoi, an ancient line of vampires, and it resulted in him being half human and half strigoi. As a pariah, he resents the Master for his condition, and makes it his life's purpose to hunt him. The most distinctive aspects of Quinlan's appearance are his facial scars, gray skin, and pale blue eye color, which can be achieved with zombie makeup. Another unique feature of his character is his scrimshaw, bone-handle sword, which isn't available. With a little effort, a prop bone can be cut and fixed to the handle of a foam prop sword, and painted to look like an aged bone with scrimshaw markings.
There are no comments yet, add one below.