Search Results for joker

Joker Junior in "Batman Beyond: The Return of Joker" is like the son of Harley Quinn and the Joker. In reality, he is Tim Drake – sidekick to Batman – who has been brainwashed. He wears purple shorts and a matching overcoat with tails, like the Joker. His button-up shirt is green while his tie is as purple as his coat. Grey socks, grey gloves, black shoes, and a yellow lapel flower finish the look. Joker Jr. is very pale with black rings around h…

…In Batman Beyond: Return of the Joker, it's the year 2040 and Bruce Wayne has retired from crime-fighting, passing on the mantle of Batman to high schooler Terry McGinnis. This is when Joker (voiced by Mark Hamill) resurfaces in Neo-Gotham City, taking over the Jokerz gang and going on a crime spree….

…The Joker played by Mark Hamill in Batman: Killing Joke gives us a little more insight into Joker's past. We learn of the atrocities that have taken place and what has caused Joker to become one of the most classic villains in the DC universe. Joker is a great costume for any gender and if you enjoy working with make up this will be a fun one!…

…In Suicide Squad, Jared Leto puts his spin on The Joker, though it will be tough to top Heath Ledger's rendition of the maniacal character. This time, the Joker shows more street style with a set of grills and plenty of ink. For the full Joker cosplay, pair this costume with this Joker from Suicide Squad makeup tutorial….

…In Batman: The Telltale Series and its follow-up Batman: The Enemy Within, Joker starts as a mysterious patient named John Doe at Arkham Asylum. Joker initially admires Batman's work as a vigilante and allies with him, but eventually associates with a gang of criminals known as The Pact, and becomes the nemesis we all know Joker to be. His two outfits reflect this transformation….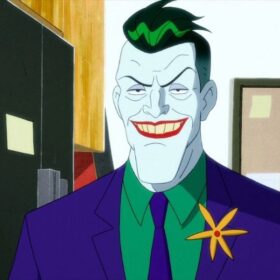 …am as the clown prince of crime and rival to none other than Batman. At the start, his girlfriend is Harley Quinn. Although Harley realizes his obsession with Batman overshadows their romantic relationship. She dumps the Joker so she can stop relying on him and prove herself as a villain. When she joins the Legion of Doom, the exes turn to rivals. The Joker becomes a major character in season two when his evil plans come to fruition….

…In the 2019 thriller Joker, Arthur Fleck (Joaquin Phoenix) is a mentally ill, impoverished stand-up comic. Discarded and abused by society, he turns to a life of crime and chaos, rising to become a frightening legend of Gotham City. Joaquin Phoenix is the fifth actor to portray the legendary Batman villain Joker in a film, and the first in a stand-alone feature….

…Heath Ledger once described his depiction of the Joker as a "psychopathic, mass murdering, schizophrenic clown with zero empathy." Clearly, this Joker isn't afraid to do what needs to be done, even if it means cross dressing in a nurse's dress….

…In Batman: Under the Red Hood, Joker is a sadistic clown who terrorizes Batman and Gotham City at large. He was the one who used the moniker of Red Hood before Jason Todd. This incarnation dresses a bit different from although Jokers, although he's most similar to the Joker from Batman: Assault on Arkham….

…In Batman: The Animated Series, Joker (voiced by Mark Hamill) is the clown prince of crime and the archnemesis of Batman. Of all the incarnations of The Joker, many fans consider Hamill's voice acting to be the best and truest portrayal….