Gunnery Sergeant Hartman in Full Metal Jacket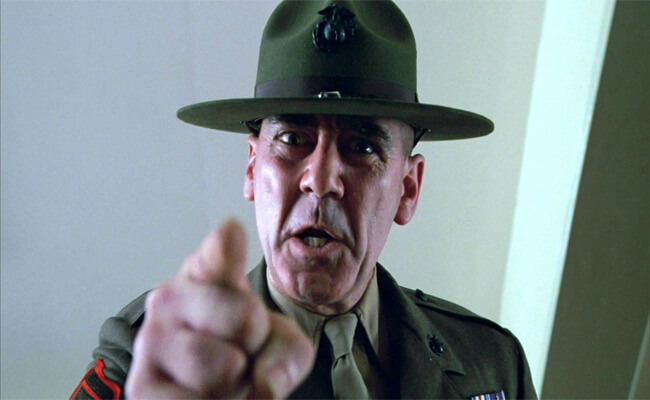 "I am Gunnery Sergeant Hartman, your senior drill instructor." Played by former, actual drill instructor R. Lee Ermey, he is the verbally abrasive, physically abusive, authoritarian marine corps drill instructor in Full Metal Jacket. Seemingly fueled by hatred, he's armed to the teeth with an unlimited arsenal of nicknames and insults, ready to preemptively annihilate any cadet in his path. He wears the standard drill instructor uniform.
About the Author
Peter Briggs
Books. Cats. Writer of short stories.
Related Posts
William "Bill" Overbeck is one of the four playable Survivors in VALVE's survival zombie shooter Left 4 Dead. He is a Vietnam veteran who served in the US Army 1st Special Forces Group. He is often seen with his trusty M16A2 assault rifle.

In the Shining, a Stanley Kubrick film based on a novel by Stephen King, Jack Torrance's son Danny is riding his big wheels through the hotel when he encounters creepy twin sisters. They are the ghosts of the Grady daughters (played by Lisa and Louise Burns), who were once murdered in the building.

In The Shining, Danny Torrance (Danny Lloyd) has horrific premonitions about the Overlook Hotel, which his father Jack was hired to take care of for the winter. When Danny first arrives at the hotel and explores it on his Big Wheels trike, there's something that draws him to Room 237.

Alex and his droogs didn't make a lot of wise choices in A Clockwork Orange. In fact, even their attire was questionable. If you've always wanted a reason to wear your jockstrap on the outside of your pants, then dressing like a droog is for you. Complete the outfit with a bowler hat and cane but then stop there, this is one costume where acting the part is discouraged.

In The Shining, Jack Torrance is looking forward to a quiet winter as the off-season caretaker of the Overlook Hotel, allowing him to focus on his writing and to spend some quality time with his family. That is until he becomes influenced by supernatural powers. Heeeeere's Johnny!
There are no comments yet, add one below.