Kevin Matchstick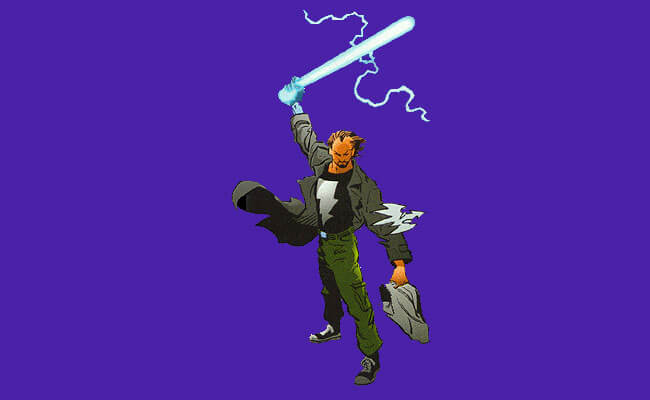 In the comic book series Mage, Kevin Matchstick is a young man who meets a wizard named Mirth. He learns that he possesses superhuman abilities and a magic baseball bat, using them to defeat an evil being named Umbra Sprite.
About the Author
Tom
On television, film, music, and all the rest.
Related Posts
In the BBC series of the same name, Merlin (Colin Morgan) is a sorcerer, Dragonlord, and beloved friend/advisor to Prince Arthur Pendragon (Bradley James), the young heir to the throne. The series follows him and his adventures following his destiny in the kingdom of Camelot. His costume is often a combination of red, blue, and brown, although the blue and red pieces sometimes switch.

Julie Winters is the freelance social worker in the comic book and MTV animated series: The Maxx. Julie's style evolves around seduction and attitude. Sultry, but with a military-like aesthetic. She is a troubled woman with a dark past trying to find her way in the world. When she's not being a jungle queen within her and the Maxx's sub consciousness, she's working but dreading her profession in the city listening to people's problems while shutting out her own.

To achieve her look, you'll need: a cut off 'cropped' white tank top, black fishnet shorts, distressed/cut blue jeans, a classic brown leather belt, a burgundy colored scrunchie, a green army jacket, (black doc martins are optional), and of course, blonde hair pulled into a grungy pigtail.

Lorraine Broughton is the protagonist of the graphic novel The Coldest City and its 2017 film adaptation Atomic Blonde portrayed by Charlize Theron. She is a secret agent who becomes involved in a global Cold War conspiracy where she gets involved with the CIA, MI6, and KGB all at once. She wears many stylistic outfits over the course of the film, this guide focuses on the costume presented in most promotional material.

Tank Girl (real name Rebecca Buck, portrayed by Lori Petty) is a tank driver in futuristic Australia who lives in her tank with her mutant kangaroo boyfriend Booga. She takes on missions for a nebulous organization but after a screw-up, is declared an outlaw.

The Invisible Man is the name given to the protagonists of H.G. Wells's sci-fi novel of the same name and the classic Universal Studios horror movie franchise that spawned from it. Besides that, similar characters have appeared in numerous other media, such as the League of Extraordinary Gentlemen comics and a stage play. Since there have been many people to take up the mantle, designs vary. Feel free to mix and match different articles of clothing. Personally, I like to use Solar Shields when I dress as him as opposed to Victorian sunglasses, because they look like goggles worn in more contemporary depictions, have side lenses like the 19th century sunglasses worn in the classic films, and are large enough to cover my eyeglasses.