Nathaniel Kutzberg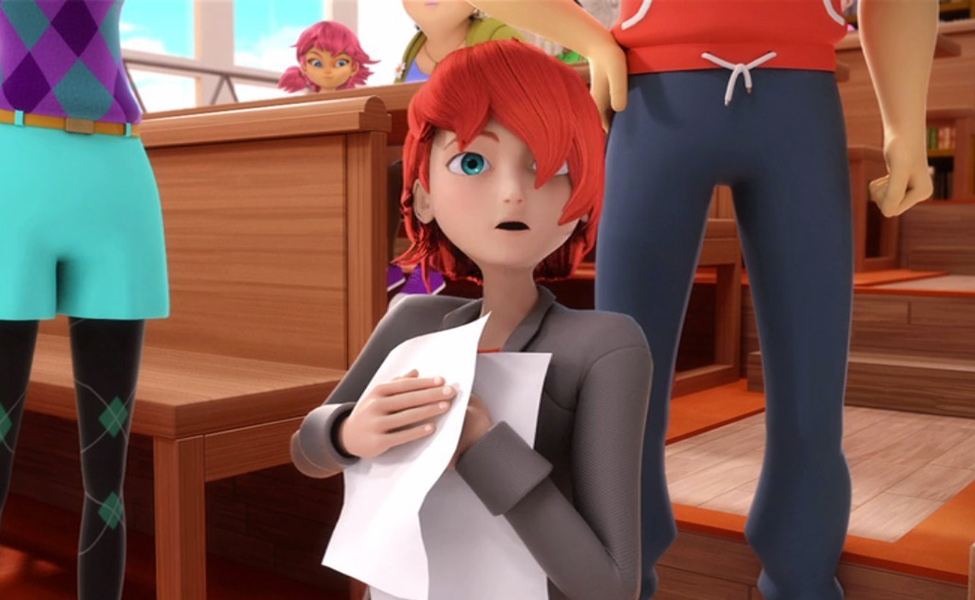 From "Miraculous Ladybug", Nathaniel Kurtzberg is the shy artist who has a crush on Marinette and becomes "Evillustrator" when Akumatized.
Rhea Baxter
Related Posts
From Miraculous Ladybug, Luka is the brother of Juleka Couffaine and crush of Marinette Dupain-Cheng. He loves music as well as Marinette. For his hair, you'll want to trim the wig down to a layered style.

Adrien Agreste (Bryce Papenbrook) is the day-to-day identity of the teen superhero Cat Noir in Miraculous: Tales of Ladybug & Cat Noir. He uses the Cat Miraculous, a ring inhabited by a creature called Plagg, in order to turn into his feline-themed alter ego. Adrien and Marinette share both requited and unrequited feelings for each other, depending on which persona they're in. As classmates, Marinette crushes on Adrien, but as heroes the roles are reversed.

In Miraculous Ladybug, Chloé Bourgeois is of medium height with honey blonde hair pulled back into a ponytail and has light blue eyes. She wears make-up, including blue eye shadow, nude lipstick, and blush. For accessories, she has golden hoop earrings, a golden necklace, and white rimmed sunglasses on her head. Additionally, she wears a yellow long sleeved jacket over a white shirt with black stripes around the waist. The rest of her outfit includes white jean capris with a belt that has diamond-shaped bumps and white dress shoes with black lining and soles.

In Miraculous Ladybug, Nino is tall, with short dark brown hair, brown skin, and golden brown eyes. He wears a plain red cap, black-rimmed glasses, and dark gray, blue, and orange headphones around his neck. He wears a short-sleeved blue shirt with a eye design on the front, having a black pupil, white sclera, dark gray upper eyelid with lashes, and light blue lower lid. Additionally, he wears lime green, pink, red, blue, and yellow bands around his right wrist, blue-gray jeans, and red and white high collar shoes with a white knight design on the tongues.

Marinette Dupain-Cheng is one of the main protagonists of Miraculous: Tales of Ladybug & Cat Noir. Marinette is a student at Collège Françoise Dupont in Paris, France. She is also a budding fashion designer. She wears a dark gray blazer with rolled up sleeves. The inside of the blazer is lined in white with pink polka dots. The trimming is black. Underneath, Marinette wears a white t-shirt with black stitching and a design below the collar. The design itself has pink flowers and black leaves. She wears rolled up pink pants with the inside lined in white with pink polka dots as well. Light pink ballet shoes with dark red soles adorn her feet. She also wears her earrings, which are black when not holding Tikki. Often, she wears a light pink purse with a thin black strap over her right shoulder, a golden clasp, white spots, and a light pink, white, and black flower design on the outward-facing side.

In Miraculous Ladybug, Alya Césaire is Marinette's best friend and a student at Collège Françoise Dupont. She is also the sole admin of the Ladyblog and head of the school blog. Alya is brown-skinned and at a medium height with golden eyes. She has dark reddish-brown wavy hair that goes to her shoulders, the tips of her hair a lighter shade of red. Above her right eyebrow, she has a beauty mark. She wears black-rimmed glasses with a light gray spot on each side, a white tank top underneath a plaid shirt with white, orange, and purple stripes, light blue jeans, and white sneakers with black tops.
There are no comments yet, add one below.