Elvira Explains How to Choose the Perfect Halloween Costume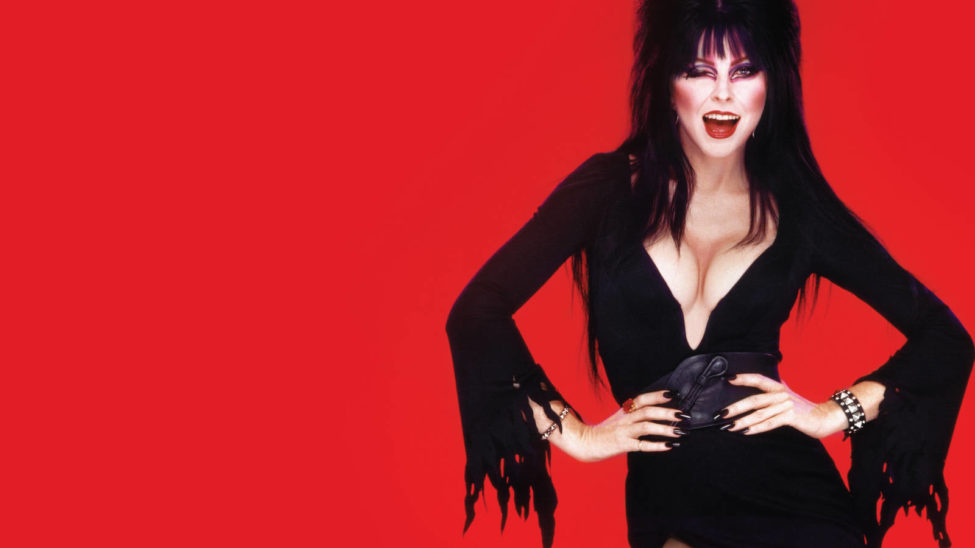 Even if Halloween is your favorite holiday, it's easy to get paralyzed when deciding what to dress up as. This goes doubly if you've recently graduated college and are paring down from four Halloween costumes to just one. After all, if you only get to wear one costume, it has to be perfect.
But how will you know what's the best look for you this year? Do you want to go as something sexy and badass? Do you want to go as something current and pop-culture related? Or do you want to be something goofy to make up for the last four years you wore lingerie and some form of animal ears?
Well, when searching for the perfect Halloween inspo, look no further than the queen of Halloween herself – Elvira. We talked to Cassandra Peterson, the woman behind Elvira, about how she put together Elvira's character 36 years ago and how you can hone in on the perfect costume for you.
---
What was one of your favorite past Halloween costumes?
In my new book – I call it my coffin table book – I have a picture that my mother sent me from when I was five years old, when we still lived on a farm in Kansas. My mother had made me a costume that was black and orange crepe paper that looked pretty awesome. Strangely, at the age of five I said I wanted to be the queen of Halloween. So, it was a princess dress with a crown and a scepter. It was very odd that as a child I said that, and now I am the queen of Halloween!
---
What are some questions you asked yourself when creating Elvira?
When I got the show, it was hosting horror movies, so we all knew I had to look spooky. I wanted to go with something more along the lines of Sharon Tate's character in Fearless Vampire Killers which was like a diaphanous, gauzy, pink and white tattered gown and more of a ghost look, kind of a dead girl look. When the station saw my friends' drawing of it, they said, "no, no, no, you have to wear all black."
My friend who was an artist, Robert Redding and I, were trying to come up with looks and thought, "Oh my god, so typical, so boring." We were afraid to come out looking like Vampira or Morticia Addams. So, we kind of tried to do the same thing – sexy, tight, black, but with an 80s spin. And also, the hair had a 60s spin because his favorite girl group in the 60s was The Ronettes and that was the hairdo they wore. It was called a "knowledge bump," believe it or not, not a beehive. So, he designed the hair to look like Ronnie Spector from the Ronettes and we gave the dress a little punk edge with the tattered edges and the leather and stud bracelets and jewelry. It was a little metal, punk, and spooky combined with a bit of Morticia.
---
Can you describe how you knew that you had finished Elvira as a character? Or perfected her?
The dress was originally going to be short, thank God we decided to make it long. It had a few changes over the years, but for the first day I shot, it had to be what it is. He had put it together and we just felt like we were rocking it.
Over the years it changed a little bit. For one thing, the station manager kept coming in every week or so and saying, "we're getting complaints about all that cleavage, can you make the neck a little higher?" And we'd say, "yes, okay," and we wouldn't do anything. And he'd come in the next week and say, "did you make the neck higher?" And we'd say, "yes!" Two weeks would go by and he'd say, "we're getting complaints about the cleavage!" And that just went on and on, I never changed it. Another thing is the belt. It was an all leather belt, it had kind of a leather pin in it – we changed that into Elvira's dagger, which I still wear. So that was probably the biggest change. And my hair started out extremely flat and just kept growing and growing and growing. At one point it was so damn high I looked like a cone head or something, and then it finally came down over the years and kind of stayed at a happy medium. If you look at old photos, it's so flat.
---
Do you still dress up for Halloween? Or have you pretty much gone as Elvira since she was created 36 year ago?
That's one of the only things that's a little sad for me, because one of the most fun things I did every year was getting my Halloween costume together. Of course, my mom would sew me a fabulous costume, whatever I came up with. It was whatever was happening on TV. One year it was I Dream of Jeannie, one year it was Gilligan's Island — I was Ginger, the movie star. When I was in 2nd grade I won a $100 bond for being "Miss Kitty" a bar room saloon girl wearing a garter belt and high heels, probably not so PC now.
What is sad is that since I've been Elvira, every Halloween I have to wear Elvira. It's not a bad costume to wear, it gets you plenty of attention, but it's kind of sad for me. I always know I'm going to be wearing the same little black dress. I do have a new clothing line out from Pinup Girl Clothing which is kind of awesome because it's kind of a daytime look for Elvira. You can wear it out in public without getting stared at too much, although it's still very sexy.
---
Do you have any advice for someone planning to dress up as Elvira this year?
Well, be prepared for lots of attention! I think you might have the most fun Halloween you've ever had if you dress up as Elvira. I get that comment from people all the time. They tell me, "I dressed up as Elvira and that was my best Halloween ever!" My advice is make sure you stay out of the sun a few months before so you have that ghostly pale skin. Make sure you wear blood red lipstick for that look that says, "I bite." Be sure to have plenty of hairspray and black eyeliner on you when you go out, that's my secret.
---
What tips do you have for someone who's trying to figure out what to be for Halloween?
I always say that costumes have a little bit of psychological background. People wear costumes that have something to do with their inner personality. I see a lot of hefty guys dressing as food, a hot dog or a slice of pizza. It's great for women because it's your opportunity to dress up as sexy or hot as you want to be and nobody says, "oh what a tramp." So, it's a great opportunity for that because people say, "Oh they're just dressing up for Halloween!" So, the vixen you have in there finally gets to come out and nobody shames you for it. It's kind of a freeing thing to let your real inner you come out. Be careful, because we don't know what's inside you, you know. Think of what you'd like to be if it didn't matter what you wore, and let your inner beauty and inner self shine through.
---
What are your feelings on group costumes?
I think it's an awesome idea. I love seeing group costumes, or even a couple costumes with one complimenting the other. I think it's awesome to go as a cast of a film or favorite TV show, and I really think it plays a little more powerful when you have other supporting members with you. I think it's a really fun thing to do if you get a group of friends or relatives who all want to get into the Halloween spirit, if you can agree on who gets to play the star.
---
Under what circumstance do you think it's okay to repeat a costume?
Well, if you're Elvira, it's definitely totally okay to repeat that every year – I certainly do. Once you wear black, you'll never go back! You'll have so much fun dressed like that. Don't go crazy and wear it for 36 years, but a couple years wouldn't hurt.
---
Do you have any predictions for which costumes are going to be super popular this year?
This is really odd, but this year I just heard from Ruby's Costumes that the Elvira costume is selling more this year than it has in the past by far. I don't know what happened this year, but apparently my costume is hot. I think there's going to be a lot of Wonder Women out there too. And It, costumes from It will be pretty big.
There are no comments yet, add one below.
Stay connected. Don't miss out!
Get new costume guides in your inbox once a month.
And don't worry, we hate spam too! You can unsubscribe at any time.