Winry Rockbell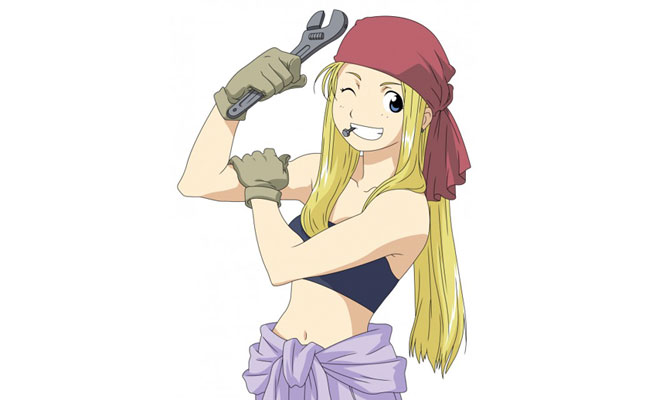 In Full Metal Alchemist, Winry Rockbell is a teenage mechanic who specializes in prostheses called automail, ensuring that Ed Elric's replacement arm and leg are always in good working condition.
Josh
Related Posts
In Blue Exorcist, Rin Okumura is the son of Satan. In his demonic form, blue flames emanate from his head, he has long elf-like ears, and his eyes have red pupils with blue irises. Although Rin can be violent and gets into many fights, beneath all that he has a kind heart and is full of compassion.

In the music video for the Porter Robinson single Shelter, Rin is a teenage girl who finds herself alone in the world. It's revealed that a planetary object was on a collision course with planet Earth, and her scientist father labored for years to build a spacecraft for her to survive, forever plugged into the spacecraft's simulation to experience life.

In Kono Subarashii Sekai ni Shukufuku o!, Megumin is a 13 year-old archwizard. A member of the Crimson Demon Clan, she has black hair, red eyes, and wears a classic black and red witch's attire. As a wizard, Megumin has an extreme obsession with explosion magic.

This November brought Anime NYC, one of the largest conventions dedicated to anime. Held in New York City at the tail end of the con […]

In the manga and anime Spice and Wolf, Holo is a wolf harvest deity who ensures a bountiful wheat harvest for the residents of Pasloe. In her human form, Holo appears as a 15-year-old girl with long brown hair and red eyes, although she keeps her canine fangs, fox ears, and fox tail.

Death Parade was a psychological anime that debuted in 2015. One may note that the name of Decim, the main character's bar, was QuinDecim. Quin […]
There are no comments yet, add one below.