Cosplay at Castle Point Anime Convention 2023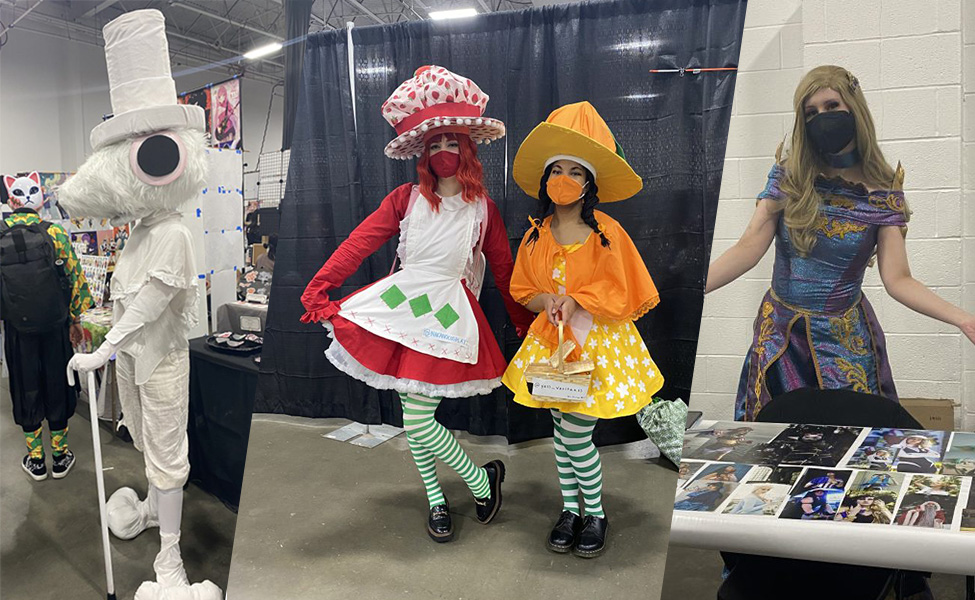 A weekend of rain did not stop Castle Point Anime Convention, or CPAC, a student run anime convention at the Meadowlands Exposition Center. Attendees braved the weather to experience all things nerd fandom, with a focus on Japanese culture. This convention is small but mighty, growing from around 700 attendees in 2008 to over 5000 attendees in 2022.
As expected, anime cosplay reigned supreme. The most popular fandoms were Jojo's Bizarre Adventure, One Piece, and Demon Slayer.
Carbon Costume was thrilled to return to CPAC for a weekend of anime, cosplay, and fun. Brush up on last year's offerings our coverage of CPAC 2022.
---
Featured Cosplayers
Featured cosplay guests had their own tables in the artist alley and served as judges for the cosplay contest.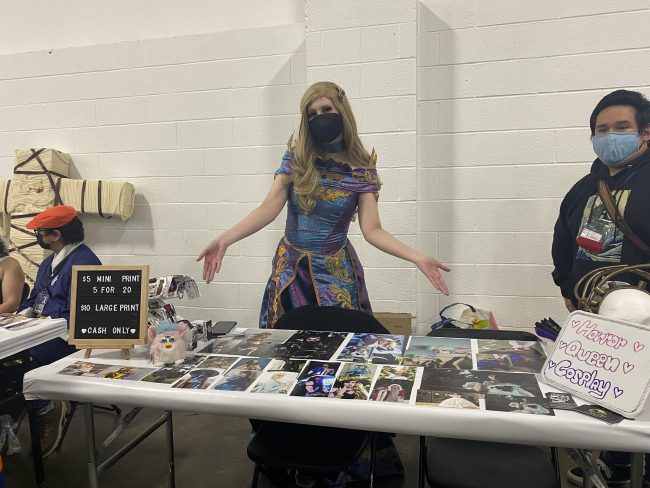 Horror Queen Cosplay is an NJ based cosplayer who has been cosplaying since 2008. Recently, she won the award for Best Advanced Cosplay Skit in Zenkaikon 2023's Cosplay Masquerade. Here she is cosplaying Aurora in a dress she made herself with blue and pink color changing fabric.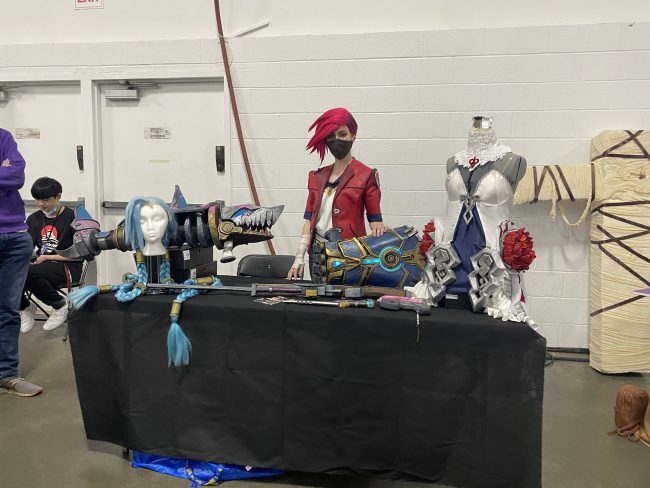 Sophia aka The Insanity Project is a cosplayer and prop builder based in NYC/NJ/CT. Their favorite prop here? Fishbones, the shark shaped rocket launcher wielded by Jinx from Arcane – as seen next to her signature blue braid wig. Looking to cosplay Jinx too? Click here for a simple tutorial, and click here for a more advanced one.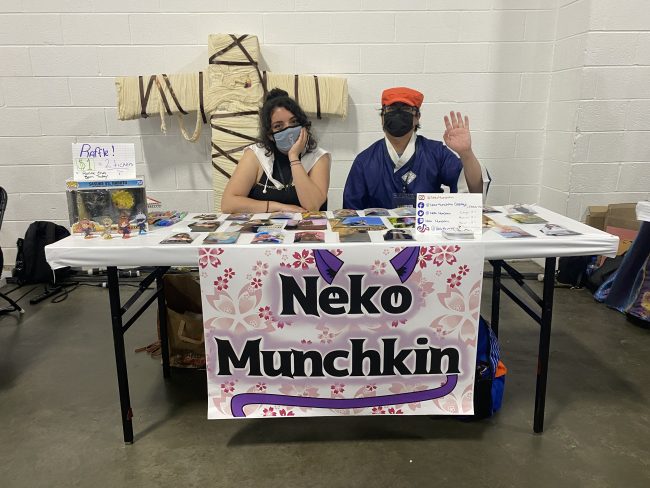 Neko Munchkin is a cosplayer based in CT/NYC who also enjoys gaming, Twitch streaming, art, and dance. Here she is cosplaying Nana Shimura from My Hero Academia.
---
Standout Cosplay
As with every convention, there are cosplays that are particularly stellar! See some of our favorites below: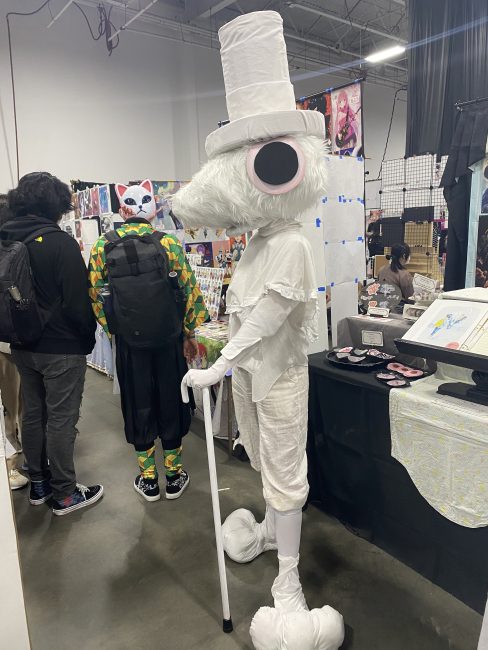 What an extravagant Excalibur (Soul Eater) cosplay!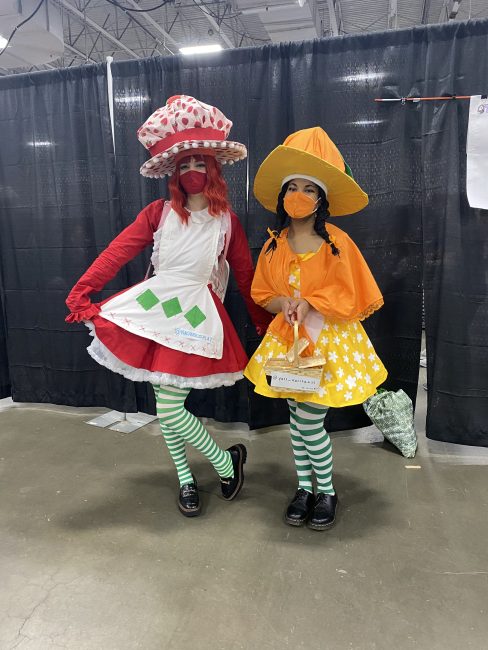 These vintage Strawberry Shortcake and Orange Blossom cosplays are so sweet!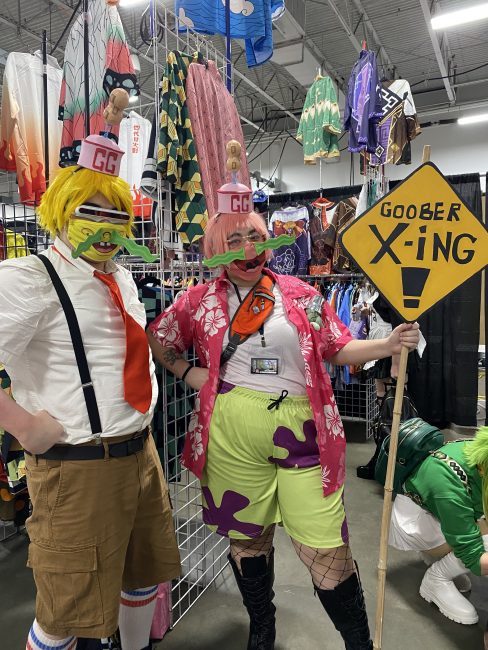 Spotted a couple of Goofy Goobers – these Spongebob and Patrick cosplays are full of movie references!
---
Cosplay Photoshoots
Even with the rainy weather, cosplayers ventured outdoors to take photos of their cosplays. This is a great opportunity to get individual or group photos of your costume. Below are cosplayers from The Disastrous Life of Saiki K (left) and Tengen from Demon Slayer (right).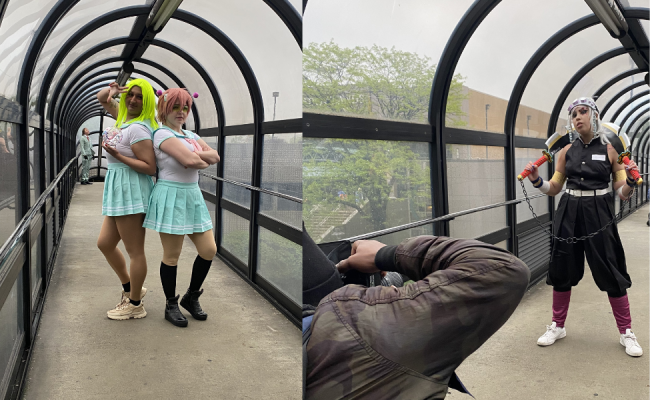 The parking garage adjacent to the Meadowlands Exposition Center features see-through tunnels that provide a distinctive backdrop for photos. Some cosplayers took photos inside the garage for a more grungy feel, and some photographers brought their own lighting and/or props to set up.
Inside the convention, cosplayers could receive professional photos at the Free Cosplay Photo booth across the vendor's hall.
---
Cosplay Meetups
Castle Point held meetups for various different fandoms. This year's meetup schedule included many fandoms, either slated for inside the convention or in the venue lobby. Fandom meetups on Saturday included One Piece, Jujutsu Kaisen, Genshin Impact, My Hero Academia, Love Live!, and Bungo Stray Dogs. Fandom meetups on Sunday included Ensemble Stars, Chainsaw Man, Jojo's Bizarre Adventure, Persona Series, and The Owl House.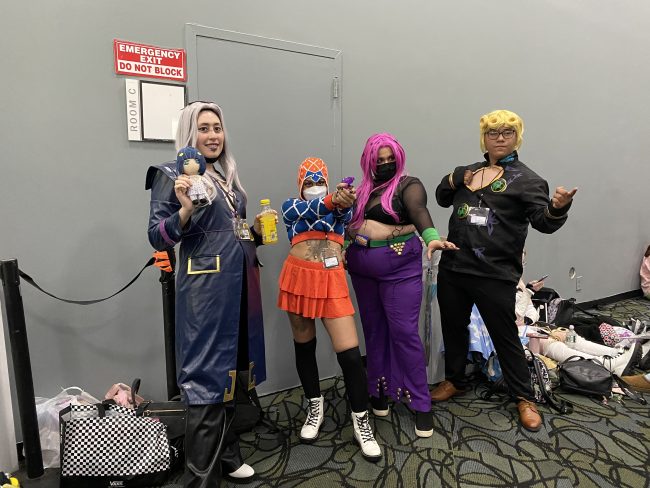 Pictured above and below are photos from the Jojo's Bizarre Adventure meetup.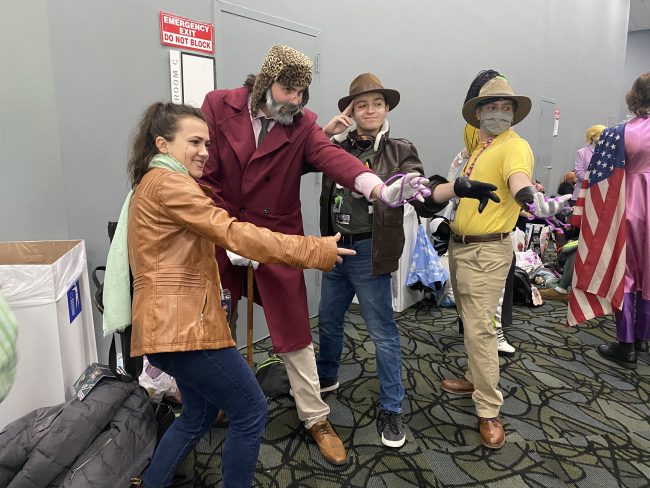 Interested in hosting a cosplay meetup of your own? Read our guide here!
---
Anime Figurine Gallery
A unique feature of Castle Point Anime Convention was an anime figurine gallery. Usually, you can find figurines for sale in the vendor's hall, but these beautiful displays showcased statues of varying fandoms, characters, and styles.
Below are two Altria Pendragon (Fate Grand Order) figurines and Sakura Cardcaptor Sakura. The tags beside them describe their scale, company, release date, and who it's on loan from.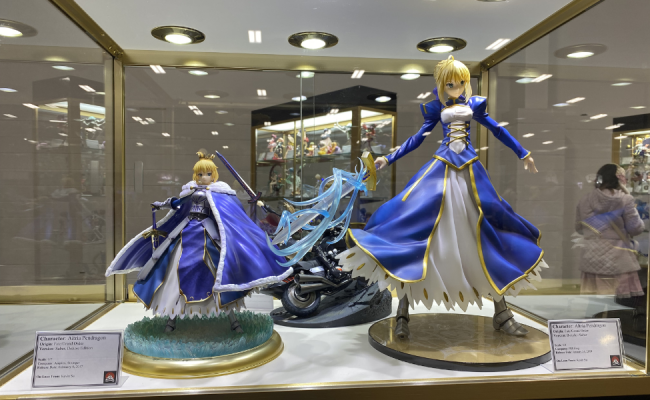 Figurines can serve as great reference for cosplay to bring costume designs to life. You get a 360 degree angle plus fabulous detail! Replicas of props, as seen below with Sakura's sealing wand from Cardcaptor Sakura.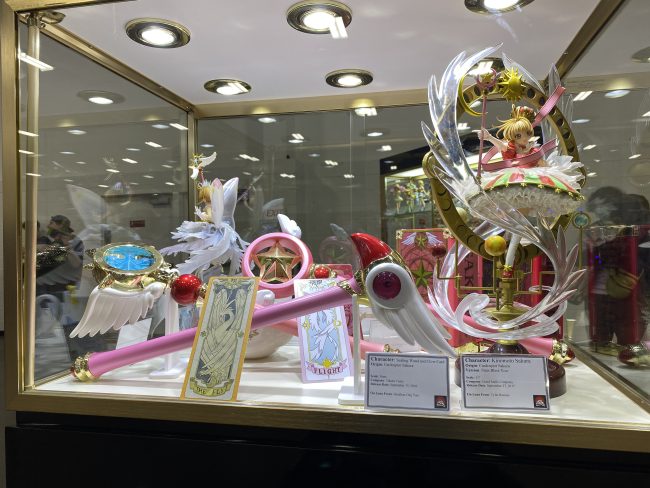 ---
Live Programming & Entertainment
What better way to round out a convention with live programming and entertainment? Aside from panels and featured voice actors, Castle Point hosted a maid cafe, cosplay contest, cosplay runway/masquerade, game shows, and more.
Perhaps the main attraction was Super Thrash Bros. Described as "part cosplay, part gaming, and all music," Super Thrash Bros is a five piece band that performs in costume at various conventions and nerdy events. The line for Super Thrash Bros wrapped all the way around the curtains!
---
Interested in more convention coverage? See our articles about conventions all across the US!
There are no comments yet, add one below.
Stay connected. Don't miss out!
Get new costume guides in your inbox once a month.
And don't worry, we hate spam too! You can unsubscribe at any time.