Quiet
September 26, 2015
by
Josh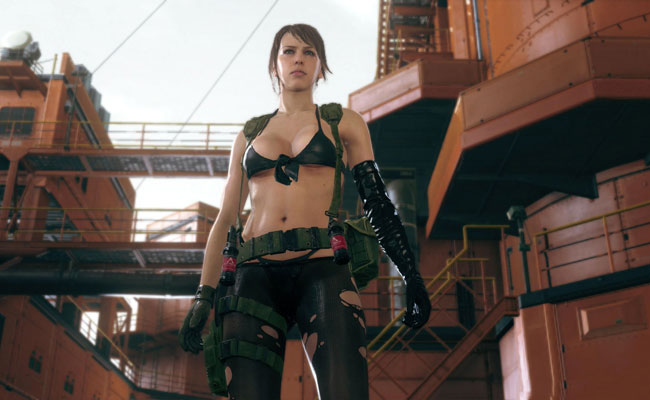 In Metal Gear Solid V: The Phantom Pain, Quiet (voiced by Stefanie Joosten) is an AI sniper with supernatural abilities that Snake can call upon to assist him on missions. As her name suggests, she doesn't talk much, but she can get the job done.
Josh
Related Posts
Meryl Silverburgh is one of the main characters of Metal Gear Solid 1 and Guns of the Patriots. She helps Solid Snake during the Shadow Moses incident and commands the Rat Patrol Team 01 of the CID During the Guns of the Patriots Incident and later becomes the wife of Johnny Sasaki.

In the Terminator series, Sarah Connor (Linda Hamilton) is a young woman who finds herself pursued by a relentless Terminator android sent from the future. Over the course of the movies, she develops from a damsel in distress to a hardened bad-ass who's prepared to take on all comers.

In Resident Evil, Jill Valentine is an explosives expert who's worked with the U.S. Army and the Raccoon Police Department. In RE3: Nemesis, she's forced to partner with an ex-member of the Umbrella Corporations paramilitary force in order to escape Raccoon City before a nuke strikes it.

In the Metal Gear Solid series, Solid Snake is special ops agent who infiltrates enemy installations and disrupts their operations. When he's vastly outnumbered, he'll do whatever it takes to remain stealthy, and isn't above camping out in a cardboard box.

In Metal Gear Solid, Punished "Venom" Snake is a mercenary commander who led Diamond Dogs and Outer Heaven as one of Big Boss' most trusted lieutenants. As a medic, he saved Big Boss's life, losing his left arm and right eye in the process, eventually taking on his identity.

In Just Cause 3, Rico Rodriguez is an operative for an organization known as the Agency. He returns to his homeland, the fictional Mediterranean island of Medici that has fallen under the control of a military dictatorship. He sets out to resist the dictator and restore freedom to his people.
There are no comments yet, add one below.
Stay connected. Don't miss out!
Get new costume guides in your inbox once a month.
And don't worry, we hate spam too! You can unsubscribe at any time.